Welcome to the best way to get around the heart of Key West. The Duval Loop is a bus route that runs from the Gulf to the Atlantic adjacent to Key West's world-famous main street lined with shops, bars, restaurants, and all sorts of quirky stuff. Hop off when you're ready to go exploring. Hop back on when you're ready to continue the adventure. Our favorite form of public transportation is totally free and there are stops along the route from which you can launch your Key West adventure. Whether it's a night of partying or a day filled with shopping and sightseeing, the Duval Loop is the answer. Real-time bus tracker.
Have a business along the route? Become a Partner and help us promote the service.
Duval Loop stops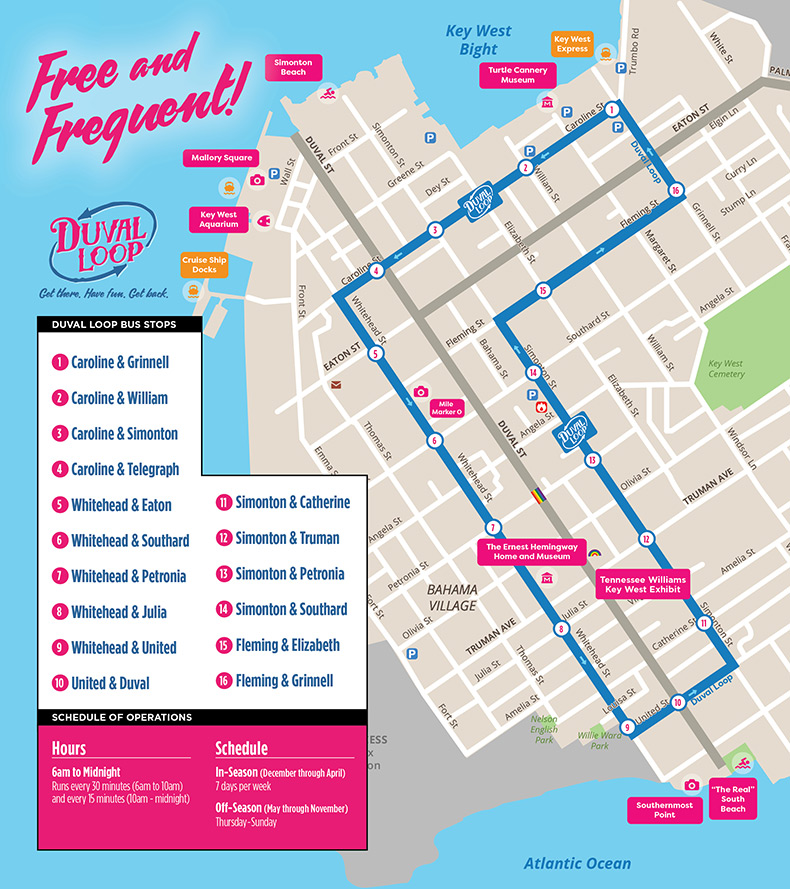 Bus
Taking advantage of the Duval Loop and Key West's other public transportation means that if someone else is driving there are fewer cars on our narrow streets, less traffic, and far fewer hassles for residents and visitors, alike. If you can't or don't feel like walking or renting a bike in Key West, then take the bus. Your hotel probably offers free shuttle service in and out of downtown (most of them do!).
Plus, we all know Key West is a great place to let loose and party. So why not play it smart and let someone else do the driving. Especially, when the Duval Loop is free, and it's so darn easy to catch the bus!
Key West Transit and the Lower Keys Shuttle
These buses will take you anywhere you want to go throughout Key West, Stock Island and all the way up to Mile Marker 53.5 in Marathon. There are five routes to get you there, and buses start running as early as 5:30 am and go as late as midnight. Every bus is equipped with a bike rack, making it easy to bring your pedal power anywhere!
For more information on Key West Public Transit and Shuttle prices, schedules, monthly passes and more, click here.