Runs every 20 minutes 8am-10pm and every 30 minutes 8am-10am and 8pm-10pm
Welcome to the best way to get around the heart of Key West. The FREE Duval Loop is a bus route that runs from the Gulf to the Atlantic adjacent to Key West's world-famous main street lined with shops, bars, restaurants, and all sorts of quirky stuff. Hop off when you're ready to go exploring. Hop back on when you're ready to continue the adventure. Our favorite form of public transportation has 18 stops along the route from which you can launch your Key West adventure. Whether it's a night of partying or a day filled with shopping and sightseeing, the Duval Loop is the answer. Real-time bus tracker.
Have a business along the route? Become a Partner and help us promote the service.
Duval Loop Bus Stops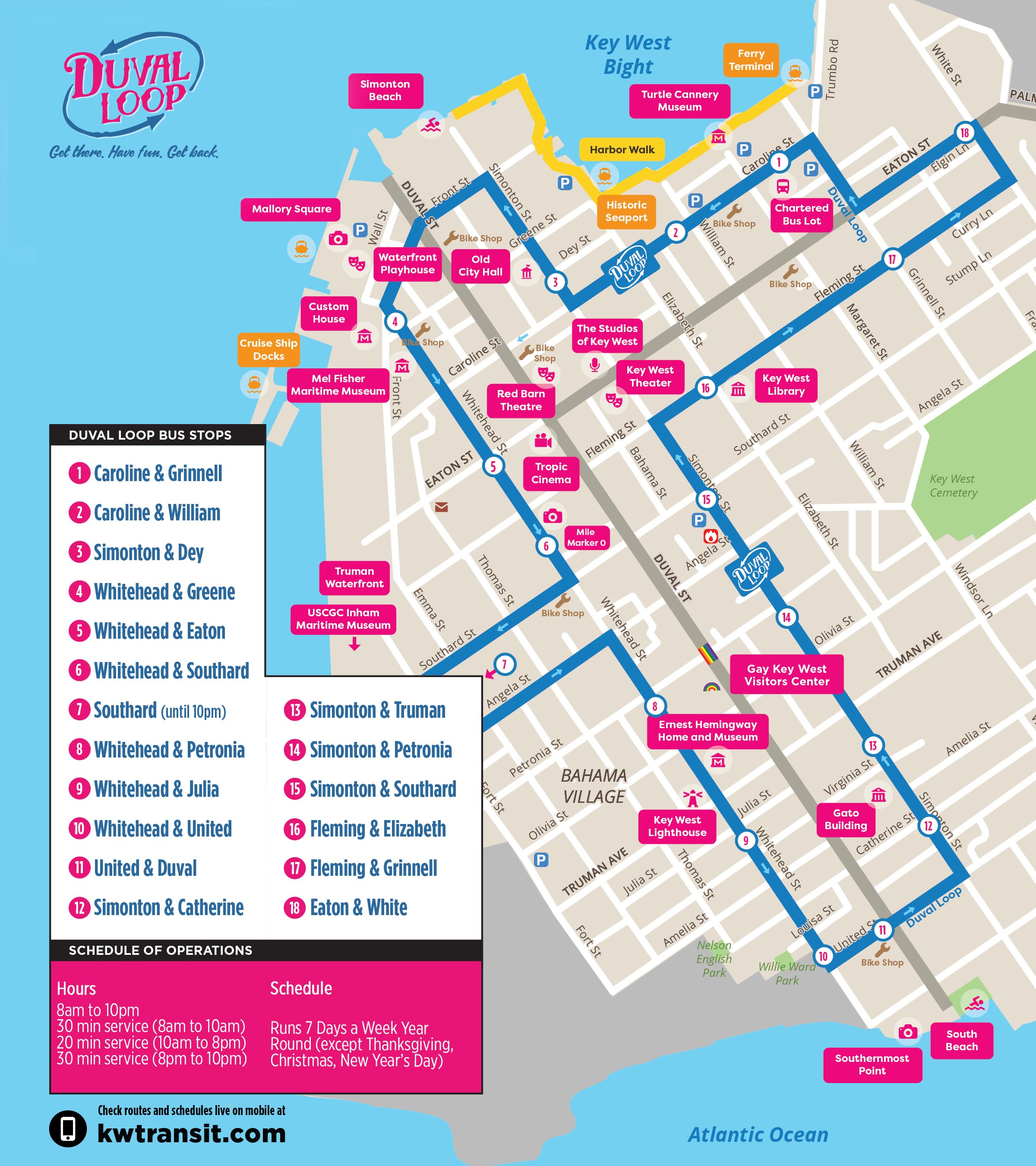 Key West Transit Bus and Lower Keys Shuttle
Taking advantage Key West's public transportation means fewer cars on our narrow streets, less traffic, and far fewer hassles for residents and visitors, alike. If you can't or don't feel like walking or renting a bike in Key West, then take the bus or shuttle. Your hotel probably offers shuttle service in and out of downtown (most of them do!). 
The Key West Transit (KWT) North and South Lines connect throughout Key West and Stock Island.  
The Lower Keys Shuttle (LKS) connects Key West Old Town to Mile Marker 53.5 in Marathon, providing a safe and hassle-free way to enjoy yourself downtown.  There are 10 trips back and forth daily, with many of those lining up with the Miami Dade Route 301 that connects Marathon to Homestead.
One Day, 7 Day and 31 Day Passes, Reduced Fares, Senior Fares, Stored Valued Passes that don't expire and a 1 Day Super Pass (combines KWT and LKS) are all available to make riding easy.
Visit www.KWTransit.com for more details!